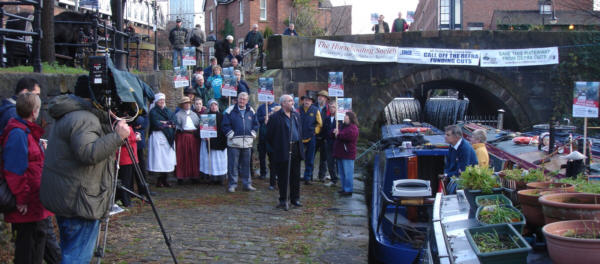 There have been a few people who have asked what has happened to all the protest demonstrations that Save Our Waterways was involved with a couple of years ago.
Well, some folks love a good bun-fight and certainly there were plenty of boaters and others interested in waterways who were prepared to come and blockade canals and wave placards to make their voices heard at a time when there was much anger over the swingeing funding cuts made by Defra.
Some people have expressed disappointment that we are no longer mounting such protests. However, it was realised that it was no longer necessary or worthwhile to continue to protest. For one thing, it you keep doing something then it is no longer news and the press loses interest. For another thing, the protests actually achieved a great deal in terms of grabbing the attention of politicians.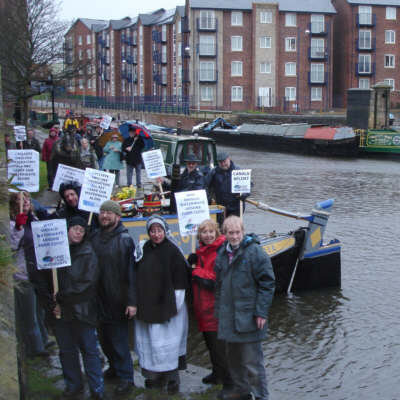 Local MPs came to give their support at the demonstrations and have been involved in a series of debates and enquiries into aspects of the waterways. They badgered ministers with questions from constituents. Ministers took notice of this upswelling of feeling and a further tranche of funding cutbacks that had been threatened (an extra 2.5% cut in November 2006) failed to materialise.
The "flat cash" funding of waterways for this year (whereby the money available remained the same with no allowance for inflation), while being a cut in real spending power, was still better than the deeper cuts that had at one time been threatened. The money situation is not good, but you can be sure that, had waterways supporters not stood up and made a noise, things would have been much worse.
The waterways minister of the time, who had failed to connect adequately with users, was replaced by Jonathan Shaw, who took a more positive approach than his predecessor and showed that he was actually listening. He helped to set up an inter-departmental group for waterways issues, helping to ensure a co-ordinated approach when issues crossed government department boundaries. He also supported the ongoing update of the Waterways for Tomorrow charter for the future of the waterways.
When you have ministers who are moving in the right direction, you support them and work with them rather than embarrass and frustrate them with further protests. So, over the last year or so, rather than engage in further protests, Save Our Waterways has been active in less visible ways. It has involved, with other waterways organisations, in useful discussions with those who make decisions as well as those who aspire to do so.
Save Our Waterways seeks to represent the interests of the many casual users of the waterways. These are probably the majority of users, although they do not contribute financially other than through taxation. This is one reason why Will has been promoting the idea of local councils paying more towards the upkeep of waterways in their area.
Save Our Waterways may not have been in the limelight recently but it has nevertheless been busy behind the scenes!